Site Build It! Supremo Ken Evoy has released a new version of his Affiliate Masters ebook.
This is one of the only ebooks I own (I have over $10,000 worth) that I have actually read cover to cover multiple times. The new edition is 197 pages long, and above all puts you in the right mindset to success.
Ken Evoy doesn't preach "get rich quick" methods. He teaches people how to build quality websites that ooze high demand, keyword focused content.
Site Build It is one of the cornerstones on which I am building my home based niche marketing businesses, but the Affiliate Masters ebook contains valuable information whichever hosting service you choose to use.
If there is one ebook you should download and read this year, make it Affiliate Masters.
Now for the best news
The Affiliate Masters Course is totally free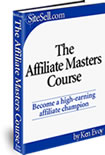 Download The Affiliate Masters Course for free now